The wines of Piedmont epitomise the "dolce vita" spirit, offering a refreshing no-fuss generosity through a diverse array of styles. Pair them with your favorite comfort-food classics, like an earthy risotto with Porcini mushrooms and truffle or tender beef braised with hearty root vegetables.
A Brief History of the Ancient Piedmont Wine Region
As in most of the Italian peninsula, the history of wine production in the Piedmont region begins with the Ancient Greeks, who called this area Oenotrua (or, "land of vines"), followed by the Romans. In the 14th century we see one of the first written mentions of Piedmont wine by Italian agricultural writer Pietro de Crescentius in his Liber Ruralium Commodorum. The latter mentioned specific Piedmontese winemaking practices of the time, such as trellising vines and drying the grape clusters by letting them hang longer on the vine. In the 17th century, the Duke of Savoy earned renown for his Chiaretto wines, which were produced from Nebbiolo grapes. Once part of France, the Piedmont region was influenced heavily by French viticulture, especially that of Burgundy to which it is sometimes compared today.
The landowners and winemakers of Piedmont played an important role during the Risorgimento (Italian unification), which took place during the 19th century. In fact, the famous patriot of Italy, Giuseppe Garibaldi, was a winemaker credited with introducing the Bordeaux mixture to the Piedmont wine region in the 1850's. This period was characterised by a series of innovations, at the origin of some of Piedmont's most notable appellations, like Barolo and Barbaresco, which received designation of origin (Denominazione di Origine Controllata or DOC) status 1966. Their DOC status was upgraded to Denominazione di Origine Controllata e Garantita (DOCG) status in the year 1980. In total, Piedmont is home to 42 DOC appellations and 17 DOCG appellations.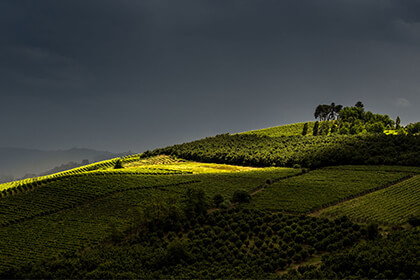 Today, Piedmont producers are embracing organic and biodynamic principles out in the vineyard. In the cellar, winemaking practices are aimed at further enhancing the typicity of the local terroir and the native grape varieties planted there.
The Diverse Terroir of Piedmont Wine
Piedmont (or "Piemonte," meaning "at the foot of the mountain in Italian) is situated in northwest Italy and bordered to the north and west by the Western Alps. To the southeast, the low coastal hills of the Apennine Mountains separate Piedmont from its neighbouring Liguria and the Mediterranean coast. It is on the sunny slopes on the foothills of the Alps in the Langhe region that Piedmont's best vineyards can be found, at elevations between 150 and 450 meters above sea level.
While the overall climate of the Piedmont wine region can be classified as continental, the weather is influenced by very cold and dry Alpine temperatures on one side and warm Mediterranean temperatures on the other. The juxtaposition of these two results in a cool morning fog that appears each day and slowly burns off during the course of the day. Vineyards situated higher up on the hills enjoy greater sun exposure, ripening gradually. The diurnal temperature variation results in a nice acidity and complexity in the wines from here. Meanwhile the Po River running through the Piedmont helps moderate temperature extremes in the harshest winter and summer months.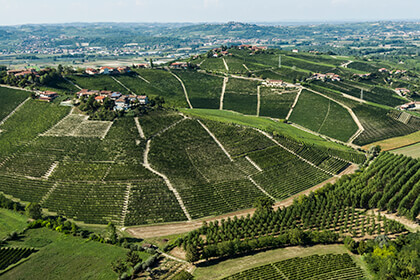 The Piedmont wine region is home to a diverse array of different soil types, including sedimentary clay, calcareous marl, sand and sandstone. In the region's most famous winemaking area, the Langhe (as well as the Gavi area), there is a higher proportion of limestone characterising the terroir, while the Roero is home to less calcareous and sandier soils.
The Grape Varieties, Appellations and Styles of Piedmont Wine
The variations in soil type and climate lead to a mosaic of different micro-terroirs, which explains the diversity of grape varieties in the Piedmont wine region. The Piedmont region is also known for its exceptional cuisine, and the region's wide range of wine styles pair nicely with a diverse array of dishes.
Nebbiolo: the Star Grape of Piedmont
The iconic flagship grape of the Piedmont wine region is Nebbiolo, representing to Piedmont what Pinot Noir represents to Burgundy. While not the most widely planted variety of the region, the Nebbiolo grape is responsible for some of the most famous wines of Piedmont. This is a finicky grape, which buds quite early and ripens late, producing wines with exceptionally complex aromas and great ageing potential. Nebbiolo wines reveal on the nose tell-tale aromas of red and black fruit, rose petals and tar.
Perhaps the most famous Nebbiolo wine ("the king of Piedmont wines") is produced in the Barolo DOCG, an appellation just south of Alba comprising 11 vintages each with its own unique mosaic of soil types. Some, such as Barolo and La Morra, are home to limestone-rich Tortonian marl soils and produce lighter style wines, while others like Monforte d'Alba, Serralunga d'Alba and Castiglione Falletto produce bolder wines from sandstone and limestone based white-yellow marl. Overall, Barolo wines tend to display a pale brick red colour, varietal aromas of rose petal, leather and tar, and a bold texture with rigid tannins. Barolo DOCG wines are built to age, evolving beautifully over decades in the bottle. Pair them with rich and hearty meat dishes like a braised beef or grilled steak filet. Some of the best producers here include the legendary Angelo Gaja, GD Vajra and Pio Cesare.
Another world-renowned Nebbiolo wine is produced in the Barbaresco DOCG, northeast of Alba. Here, a proximity to the Tanaro River and lower elevations result in an earlier ripening of the fruit, which tends to have thinner skins than those of Barolo. These conditions, along with the higher percentage of limestone in the soil, result in wines with less tannin. Barbaresco wines therefore tend to be slightly lighter and softer in style than Barolo, but they age just as beautifully. These wines pair beautifully with gamy meats, like wild boar and venison, as well as risotto with porcini mushrooms or truffles. Some of the best producers here include the legendary Produttori del Barbaresco, Roagna and Vietti. Other excellent Nebbiolo can be found from all around Piedmont, including the Gattinara DOCG and Roero DOCG.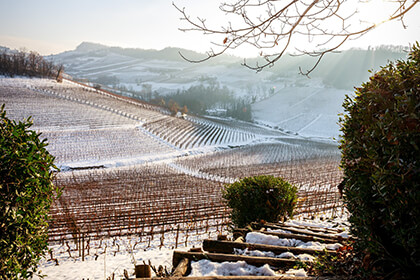 Barbera: the workhorse grape of Piedmont
The most widely planted variety of Piedmont is Barbera, a dark-skinned grape, which produces ruby-coloured wines with aromas of fresh sour cherries, anise and dry herbs, and a significantly less tannic palate than Nebbiolo. The best-known appellations producing wine from Barbera are the Barbera d'Alba DOC, the Barbera del Monferrato Superiore DOCG and the Barbera d'Asti DOCG. Their gentle tannins and high natural acidity help these wines pair easily to a wide range of dishes, especially tomato-based Italian classics like a Neapolitan pizza or a pasta with red sauce. Some of the best producers include Elio Grasso and De Forville.
Dolcetto: the "Little Sweet One" of Piedmont
Dolcetto is early-ripening grape variety with a very deep, dark colour and aromas of blackberry, liquorice and tar. While they offer plenty of mouth-drying tannins, these wines are relatively low in natural acidity, so they are meant to be consumed young and are often available at wallet-friendly prices. The greatest examples of Dolcetto are the single-varietal wines produced in the Dolcetto d'Alba DOC (known for Dolcetto wines with violet and lavender aromas), Dolcetto d'Ovada DOC and Dogliani DOCG (known for robust, full-bodied wines). Some of these can age 5-6 years. Dolcetto wines pair nicely with cured meats, tomato-based ragu and spicy barbecued pork ribs.
Other Red Grape Varieties of Piedmont
While Nebbiolo, Barbera and Dolcetto make up the majority of Piedmont red wines, there are also a dazzling variety of other grapes varieties cultivated here. These include the light red wines of Brachetto, the cherry and strawberry flavoured Freisa, the bold and tannic Bonarda, the Quagliano used to produce sweet and sparkling, the tannic Grignolino, the light and fruity Pelaverga, the spicy and tannic Vespolina, musky Malvasia di Schierano and Ruché from the Ruché di Castagnole Montferrato DOCG, producing reds with aromas of black cherries, roses, pepper and cinnamon.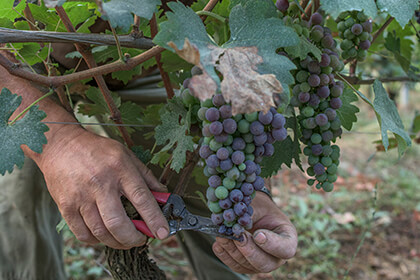 Moscato Bianco: The white side of Piedmont
Moscato is a very fragrant and floral white grape with sweet aromas of roses, lychee and mandarin orange. It is planted in the provinces of Cuneo, Asti and Alessandria, and is the most planted white grape in the Piedmont wine region. This grape is used to produce two main styles of wine in Piedmont: a sweet, very sparkling ("spumante") wine called Asti Spumante and slightly sparkling ("frizzante") wine called Moscato d'Asti. Both of these wines are low in alcohol content, making them an ideal pairing with dessert after a hearty meal.
Cortese: Elegant, Refreshing Whites of Piedmont
Cortese is a white wine grape cultivated in the prestigious Cortese di Gavi DOCG appellation, where it produces wines with a crisp, citrussy acidity and delicious white peach, apple, almond and white flower aromas. Some producers of this appellation have also been producing a traditional method sparkling wine with Gavi in the same style as a Blanc de Blancs Champagne. Pair a Gavi by Villa Sparina with pasta in a green pesto sauce or fresh white fish.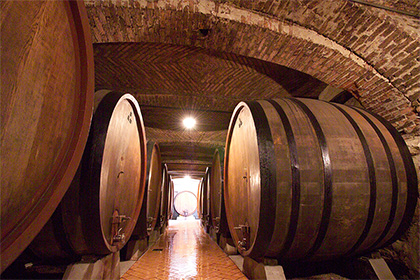 Arneis: The Rising Star of Piedmont
Arneis has been planted in the Roero area (now Roero DOCG) since the 15th century but has been for most of its history overshadowed by the wines of Gavi. This grape has recently enjoyed a growing reputation as one of Piedmont's best dry white wines. Arneis is a very fussy, low-yielding grape which, when treated right, produces herbaceous, grassy and highly mineral white wines with layered aromas of white flowers, peaches and apple, along with a pleasant bitter almond finish. Pair an Arneis by Vietti with white meat like turkey or chicken served in a creamy white sauce.
Other White Grape Varieties of Piedmont
Other white grape varieties of Piedmont include spicy, herbaceous Erbaluce, saline Nascetta and Favorita, which offers a slightly bitter touch on the finish.