Every great glass of red wine starts with the pop of the cork from your bottle and then to that first crimson splash that hits the bottom of the bowl of your glass. You pour a bit more and then give it a swirl to open up the wine and let it release its hidden fragrances. You give it a sniff and then a sip, and are then carried away to a place where terroir and people came together at the most perfect moment in time to give you this little piece of drinkable history. There is nothing more timeless than a glass of red wine whether it's a bold, powerful Cabernet Sauvignon or a soft, fruity Merlot or a fresh, elegant Pinot Noir. All of these types of grapes, or varieties, all come from the "vitis vinifera" family. A family that dates back to 6,000 BC in south-eastern Asia, near the country of Georgia, where wine grapes were first domesticated for winemaking. It's also a big family with between 5,000 to 10,000 members, but only about 1,300 are used in modern winemaking these days. With all of these choices, how can you find the best wines for you? Well, let's take a tour of some of the best-known wine regions throughout the world to start your tasting adventure into red wine, and find your favourite red wines.
Bordeaux: It's all about the blends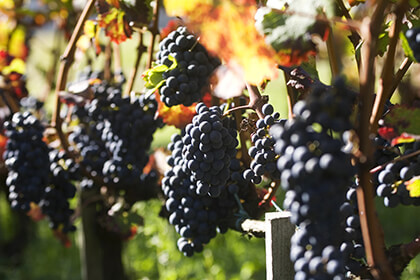 To know the essentials about red wine, our first stop on this whirlwind tour of red wines must be in Bordeaux – the wine capital of the world. Bordeaux is known for its red wine, and its 'Bordeaux blend' has been copied around the world from the U.S. to Australia. This blend can include six different varieties: Cabernet Sauvignon, Merlot, Cabernet Franc, Petit Verdot, Malbec, and Carménère. Malbec and Petit Verdot make up a very small portion of the blend while Carménère pops up every now and then, but it's quite rare in this blend. Keep in mind that Bordeaux is a region where vintages vary from year to year, so the fruit flavours in the wines can range from tart to sweet ripe fruit. The Garrone River divides the Bordeaux region into two parts. On one side of the river, you have the 'Left Bank' where Cabernet Sauvignon reigns as king of the varieties and dominates in the blends. Here you can find the most prestigious appellations like Saint-Estèphe, Pauillac, Saint-Julien, Margaux and Pessac-Léognan that are known for their gravel soils. The wines coming from these sub-regions can be bold and very tannic, which makes them perfect for decades of ageing. Hopping over the river to the 'Right Bank', we land ourselves in Merlot country. In the illustrious Pomerol and Saint-Emilion appellations, the clay soils give us supple, plummy red wines. If you enjoy wines with elegant, more refined tannins, these are the wines for you.
Burgundy: All-encompassing terroir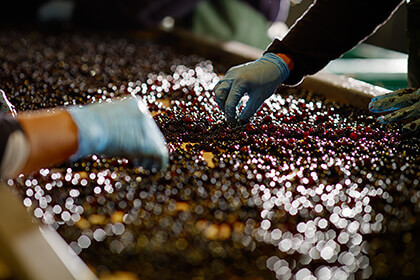 Heading to the eastern central part of France, we hit the country's most renowned region for Pinot Noir. Planted on gently rolling hills, there is no other place in the world where terroir plays such an important role. Terroir is all-encompassing that includes the influence of the sun, elevation, vineyard slope, soil, climate and even the talent of the winemaker. All of these work together to produce wines that you can find nowhere else in the world. Wines that have a pale ruby colour with red fruit aromas like strawberries and cherries along with liquorice, pepper and leather notes. The racy acidity found in Burgundy's Pinot Noir is due to the cool climate and growing the vines in the clay-limestone soil, and you can find most of the region's Pinot Noir in the Côte de Nuits. For the region's top-tiered wines, keep a look out for Premier Cru and Grand Cru on the labels. The Premier Cru wines are from vineyard areas within a village and offer more intensity than the village wines. For the Grand Cru, these complex and powerful wines offer some of the most renowned expressions of the variety with ageing potential for decades. Nuits-Saint-Georges, Gevrey-Chambertin, Vosne-Romanée and Clos Vougeot are among some of the best appellations.
Loire Valley: Garden of Cabernet Franc
Leaving Burgundy and travelling westwards, we come across the "Garden of France", or the Loire Valley – home to fairy tale castles with soaring towers reflecting into the shimmering waters that surround them. It's also home to vines clinging to slopes that radiate out from the Vienne River with the region's flagship grape, Cabernet Franc – first planted at the Bourgueil Abbey back in the seventeenth century. Unlike Cabernet Sauvignon that also grows in the region, Cabernet Franc ripens earlier, so it's ideal for the cool, damp maritime weather. Bourgueil, Saint- Nicolas-de-Bourgueil, Saumur-Champigny and Chinon are the heart of red winemaking in the region. You might think that their close proximity to each other would mean that their wines are similar in style, but they are strikingly different. The lightest red wines with fresh black currant and berry fruits flavours hail from Saumur-Champigny. Wines from Saint-Nicolas-de-Bourgueil and Bourgueil need a few years of ageing to divulge their red current and spicy flavours since they are quite tannic in their youth. Chinon wines are more approachable in their youth because of their velvety tannins, yet they can age just as well as the ones from the Bourgueil appellations. Overall, these fresh and fruity wines with their crisp acidity can age well to reveal complex, rich flavours with smoky nuances. Though Cabernet Franc prevails in many of the central vineyards, if we follow the Loire River just to the east, we land ourselves in Sancerre. Although it's famously known for Sauvignon Blanc, the Pinot Noir wines are getting a reputation similar to the quality and elegance you can find in Burgundian reds. This shouldn't be a surprise since both areas have similar soils, a limestone-clay mix that is ideal for Pinot Noir. However, Sancerre has a bigger day-night temperature, so you'll find that Sancerre Pinots have more raspberry and cranberry flavours with a peppery complexity rather than Burgundy's signature cherry taste and earthy undertones. These Sancerre Pinots can indeed hold their own against some of Burgundy's top players.
Rhône Valley: From stand-alone Syrah to GSM blends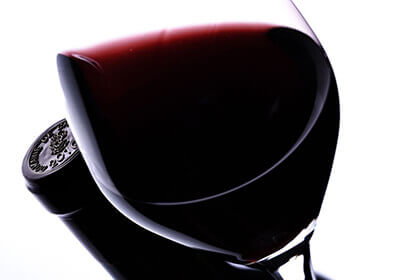 Before we leave France, we have one last stop on our red wine tour to the Rhône Valley, the second-largest wine growing region that is divided into a north and a south part. Syrah reigns over the north while Grenache rules the south. Grenache dominates many of the blends in the south, but other varieties also play a role in making up some of the most complex blends that you'll find in France like Mourvèdre, Cinsault, Carignan, and many others. The Northern Rhône is just over 60 kilometres long with a continental climate, so the summers are hot and the winters are cold. The incredibly steep, terraced hillsides are home to Syrah, a variety that gives full-bodied, elegant and savoury wines. Alongside Syrah, there are also three white varieties – Viognier, Marsanne and Roussanne. Depending on the appellation, these whites can be added to Syrah wines in varying percentages. Among the appellations that offer such wines include the Côte-Rôtie. Up to 20% of Viognier can be added to Syrah wine, but most winemakers don't use that full amount. This "Roasted Slope" with its granite soils and sun-drenched slopes is known for its floral, raspberry-scented wines with hints of truffle and chocolate. Heading just a little south, Saint-Joseph, makes perfumed Syrah wines with dark fruit and liquorice notes that don't need to go through years of ageing. Up to 10% of Marsanne and/or Roussanne can be added to Syrah in Saint-Joseph. The largest appellation is Crozes-Hermitage with its floral perfumed wines. Many of the vineyards have a bit of sand mix into their granite-clay soils, so you can whiff floral fragrances like violet in the wines and notice the Syrah's typical dark ruby colour is just a bit lighter. These wines have a fresh berry character with refreshing acidity and grippy tannins. The most renowned appellation would have to be Hermitage with its small vineyards on the edge of the village of Tain-l'Hermitage. Many of these wines need time to evolve into their round, full-bodied character that is adorned with red fruit and leather notes. Both Crozes-Hermitage and Hermitage allow up to 15% of Marsanne and/Roussanne in their Syrah wines Near the southern tip, we find Cornas, the smallest AOC in the Northern Rhône with its 100% Syrah wines. These powerful, age-worthy wines are noted for their savoury, spicy character.
Following the Rhône River to the south, the valley starts to flatten out and the climate changes to a Mediterranean one with long summers and mild winters. The cold, blasting Mistral wind from north plays a major role in the area. It can ravage vineyards and uproot their vines at times, yet at the same time keep the grape bunches dry and free from diseases. The most famous appellation in the entire Rhône Valley is Châteauneuf-du-Pape, which was France's very first AOC to be recognized in 1936. The incredibly varied soils are covered with large, round stones called "galets" that glaciers left behind millions of years ago. The number of diverse soils means there are an assortment of varieties in the vineyards. Technically, there are thirteen varieties that can be blended into Châteauneuf-du-Pape wines, but we also have to factor in the colour variants of those thirteen grapes. Grenache, for example, has four variants, Grenache noir, rose, gris and blanc (black, rose, grey and white). In total, there are actually 22 grapes that are authorized in this appellation! Grenache takes up most of the vineyard space with Syrah and Mourvèdre in second and third place respectively. These three dominate the "GSM" blends that give aromatic, full-bodied wines with dark fruit and spicy flavours.
Piedmont: The "Burgundy" of Italy
Our red wine adventure now takes us to the Italy, often described as the "Jurassic Park" of viticulture with some of the oldest grape varieties in existence. Known as Italy's "Burgundy" because of its family-run, small-scale wineries, Piedmont sits at the foot of the Western Alps and has an unparalleled reputation as one of the finest wine regions in the world. It holds the title of having more DOCG wines that any other region in Italy with Barolo, Barbaresco and Barbera d'Asti leading among the most renowned appellations. Like Burgundy, quality is of the utmost importance, and as Burgundy reveals the best expression of Pinot Noir, Piedmont does the same with Nebbiolo – its name coming from 'Nebbia', which refers to the fogs that roll in during the harvest time. Though it isn't the most planted variety in the region, two of the Nebbiolo-growing DOCGs, Barolo and Barbaresco, have become synonymous with the finest wines from the variety. Traditionally, Nebbiolo wines are very tannic in their youth and need years of ageing to make them approachable, but more modern styles that are early-drinking, fruitier wines are popping up from the region. Nevertheless, the "roses and tar" aromas are the unmistaken signature of the variety. Nebbiolo can get most of the glory in the region, but Barbera is now trying to take some of its spotlight away. As the most planted variety in the region, it produces a much less tannic, early-drinking wine known for its sour cherry aromas and lovely acidity, but is still made in a range of styles. Barbera d'Asti and Barbera d'Alba are definitely the regions rising stars for both producers and consumers. Last but not least, Dolcetto with its three exclusive DOCs, Dolcettos d'Alba, d'Acqui and di Ovada, definitely doesn't get the lavish attention as Nebbiolo and Barbera, but it does produce soft-styled, fruity wines. It's a dry red wine with black cherry flavours and a slight bitter finish, but its name actually means "little sweet one".
Veneto: The valley of many cellars
Heading to Italy's northeast, we find ourselves in the Valpolicella DOC that is nestled in the Veneto region in the foothills of the Alps just east of Lake Garda and north of Verona. Its viticultural history goes back over a thousand years, so it's no surprise that its name is a mix of Latin and ancient Greek meaning "valley of many cellars". Many cellars are indeed needed to house all the red wine produced here since it's the largest-producing red wine DOC in the country. The red wines are diverse, offering four different styles that include Valpolicella, Recioto, Ripasso, and Amarone. Although each style is distinct, they are all made from the same native varieties: Corvina, Rondinella, Corvinone, and Molinara. Corvina and Corvinone bring sour cherry flavours to the blend, Rondinella gives floral notes, and Molinara contributes acidity. Since Corvina and Corvinone are used to make Valpolicella DOC wines, they are bright and lively with sour cherry flavours. For Recioto wines, the grapes are picked when they are very ripe and then left to dry on straw mats or in trays during the winter. This traditional drying method is done to help concentrate aromas and flavours in the wines, and is known by its Italian term appassimento. Once these grapes have shrivelled up and become almost like raisins, they are then vinified, but fermentation is stopped before all the sugar can convert into alcohol. The resulting sweet wines have concentrated dried cherry, raspberry and vanilla notes with balanced acidity. Amarone is made in a similar way, but the same dried grapes are allowed to fully ferment. This gives a full-bodied wine with a raisin-like quality along with dark fruit and cocoa flavours. True to its name that means "great bitter", these wines end with a pleasant bitter finish. Ripasso wines are soft, smooth medium-bodied wines that combine Valpolicella's tart cherry flavours and Amarone's soft, raisiny, bitter notes. The reason for these flavours is because Ripasso is double-processed – just as its name suggests "re-passing". The pressed grape skins from Amarone are added to a vat of Valpolicella, which then goes through a second fermentation, and this infuses more complexity into the Ripasso wine.
Tuscany: Under the Tuscan sun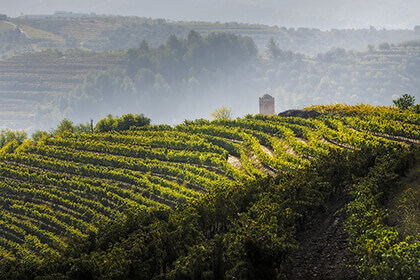 Moving down a little south to rolling hills, cypress-lined roads and sunflower-filled fields, we find ourselves in Tuscany, one of the truly most romantic and glamourous Italian wine regions. This passion and charism can also be found in its iconic wines, including Chianti, and Brunello di Montalcino that are made with the region's signature red grape, Sangiovese. This grape can be made in a variety of styles that will bring out different flavours ranging from sour cherry or ripe strawberry to more vegetal impressions like tomato leaf or roasted red pepper. Its high acidity and tannins means that it can be aged for a long period of time, and that many wines will see oak ageing. A typical Chianti may see a bit of oak, but not too much so that the pure, fresh red fruit flavours can shine through and be perfectly paired with any number of tomato-based pastas. Classico Riservas and present in Chianti Classico Riservas, however, will see much more oak and have a much deeper colour. The other renowned Tuscan wine, Brunello de Montalcino, also makes use of Sangiovese's versatility to produce some of the finest wines Italy has to offer wine lovers. These 100% Sangiovese wines are aged in oak for two years, but will then spend a lot of time ageing in the bottle to help integrate the oak and make them more approachable. For modern and powerfully concentrated wines, we need to hop over to Tuscany's coast to Bolgheri, an area well-known for its Super Tuscans. These producers here started experimenting back in the 1970s with non-traditional varieties like Cabernet Sauvignon, Merlot and Syrah, and these wines have now become Italian superstars among wine lovers. Unlike Chianti and Brunello di Montalcino, you won't find DOC or DOCG on their labels, but instead IGT that gives producers the flexibility to make these blends from both international and Italian varieties.
Spain: With wine and hope, anything is possible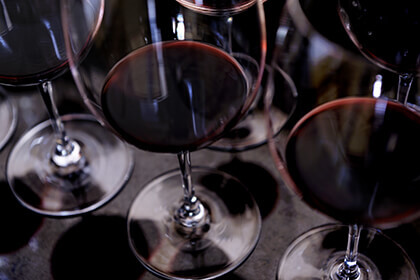 We're now heading to the country with more vines than any other country in the world, and the world's third largest wine producer, only to be exceeded by France and Italy. This could only be Spain where all of its breath-taking landscapes from the northern snow-capped Pyrenees to the arid central plateau to the southern sunny Andalusian coast all play a role in characterizing its many wine styles. As the Spanish proverb says, "with wine and hope, anything is possible"; The warm, dry regions of Rioja and Ribera del Duero are where you'll find medium-bodied, fruity red wines from the king of the Spanish grapes, Tempranillo. For the finer wines, the ripe cherry and plum flavours contrast perfectly with the more earthy overtones of cedar, leather and tobacco. Often found alongside Tempranillo in the vineyard is Garnacha, or Grenache as it's called in France. One of the best expressions comes from the Calatayud vineyards that rest on top of the Meseta, Spain's great central plateau. It's commonly blended with Tempranillo to give more body, which comes from its high alcohol levels that can reach 15%, and to add touches of spice. Priorat, one of Spain's most prestigious appellations, slightly southwest of Barcelona, makes some of the country's most exclusive Garnacha blends from vines grown in llicorella soil, a type of slate soil that sparkles in the sunlight. Red fruit flavours are at the centre of these wines along with chewy tannins, but the spotlight shines on llicorella's character that dazzles these wines with its minerality. Now that we've finished with our European wine trek, it's time to hop across the Atlantic to the New World.
United States: Powerful Cabs to elegant Pinots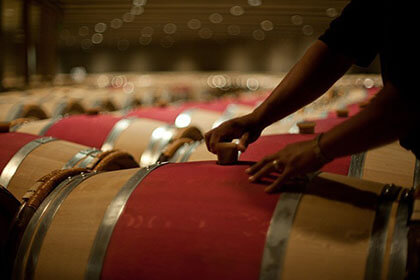 It was back in 1976 that Steven Spurrier help shine a spotlight on the wine world in California when he put together a blind tasting event known as the Judgment of Paris in which he pitted the best of California against the best of Bordeaux and Burgundy. The wine world was in complete shock when the Californian wines swept the competition. Since then, California has emerged as one of the premier wine regions of the world with over 107 American Viticultural Areas (AVAs) – designated grape growing regions with specific regulations similar to AOCs in France. Among the most prestigious areas is Napa Valley, which is the most densely concentrated wine region in the world with over 400 wineries. Cabernet Sauvignon is the king of grapes in Napa that produces two very different styles like the savoury, peppery one that comes from the hilly sub-regions of Stag's Leap District and Howell Mountain. There are also the more extravagant, fruit-forward ones that have blackberry and mocha notes that come from the valley area. Pinot Noir reigns over Sonoma County, especially in Russian River Valley and Carneros, which is much cooler due to the billowing morning fogs that roll in from the coast. There are a diverse range of styles when it comes to Pinot Noir here: everything from bold, fruit-forward styles to fresher, more elegant ones. Some Pinots can be as intense as Napa Valley Cabernet Sauvignons with chunky tannins and ripe dark fruit.
Heading up north to Oregon that has become a spitting image of Burgundy in regards to grape varieties and style, we discover one of the area's crown jewels – Pinot Noir. Unlike California's fruit-forward wines, the Pinots here have a rustic quality from flavours like cranberry and forest floor with high acidity and a more nuanced, elegant style. However, there are a range of tastes that these Pinots can offer depending on the vintage, vineyard location and oak ageing. Cold, wet weather in the spring and fall can affect the taste to give lighter wines with higher acidity. The morning fogs that roll into Willamette Valley mean that vineyards located on south-facing slopes will have a more ideal location to give more elegantly balanced wines. The amount of oak ageing also affects the taste, especially since it varies in the region. Some wines are aged in French oak giving vanilla and cinnamon notes while those with less oak are slightly bitter since their body and tannins come from the grape skins. Nevertheless, there are styles to match all the tastes of those who love these Pinot Noirs.
Australia: Down under with Shiraz
It's time to go a little further and all the way 'down under' to Australia where you can actually find kangaroos lounging in the vineyards during the heat of mid-day. You might think they'd be snacking on Syrah grapes, or locally called Shiraz, but they only resort to that during times of drought. In Australia, Shiraz reigns as the king of grapes, which is planted in every single region and can be produced in a variety of styles. The cool-climate Shiraz coming from regions like Yarra Valley and Mornington Peninsula, just outside of Melbourne, tend to be medium-bodied and savoury with white pepper and minty notes. The warm-climate Shiraz, however, pack quite the punch with their full-body, ripe fruit and notes of black pepper and liquorice. Barossa Valley, just north of Adelaide, produces some of the boldest, most powerful Shiraz in the country, and is home to Australia's most renowned winery, Penfolds. Though Shiraz gets much of the spotlight when it comes to Australian wines, international varieties like Cabernet Sauvignon, Merlot and Pinot Noir are planted as well. Particularly interesting, Cabernet Sauvignon, like Shiraz, comes in numerous styles ranging from Bordeaux styles found in Margaret River on Australia's west coast to the Coonawarra style unique to the Limestone Coast in South Australia. Coonawarra's copper-red terra rossa soil gives medium to full-bodied wines that have rich dark fruit with chewy tannins and the unmistakeably Australian marker of eucalyptus notes.
As our tour through some of the most renowned red wine regions of the world comes to an end, keep in mind the words of Ernest Hemingway, "My only regret in life is that I did not drink more wine". Find the reds you enjoy and don't have any regrets!