The specific style of a Saint-Émilion will vary largely with vintage and micro-terroir of origin. Nevertheless, these wines seem to have several signature features in common: a luscious mouthfeel, silky-smooth tannins and concentrated aromas of blackberries, ripe plums, black cherries, and chocolate, which evolve into herbaceous and earthy touches of tobacco and truffles with age.
The History of the Saint-Émilion Wine Appellation
The winemaking history of the region we today call Saint-Émilion dates back to Roman times and continues through the Middle Ages. Originally called Ascumbas, the town and its surrounding land was renamed after the Benedictine monk Émilion, who settled in this area and founded the first religious community there in the 8th century.
As this area was on the route of Saint James to Santiago de Compostela, it would be frequented by religious pilgrims. Several monasteries, churches and hospices were constructed from the 11th century onwards to accommodate the latter. During the 12th century, the area fell under English rule, when Eleanor of Aquitaine married Henri Plantagenet, who would become Henry II of England. Saint-Émilion became the first growing area in Bordeaux to export its wines (mostly to England, where wine was in high demand) and Libourne was founded by the British as a commercial capital to direct this export activity.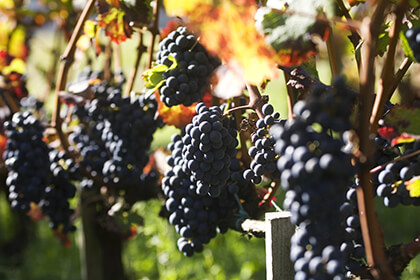 In 1199, a regulatory body called the Jurade was established to supervise the quality of wines from Saint-Émilion. A few centuries later, in the 1700's, Saint-Émilion started to adopt the concept of "cru," which tied the characteristics of terroir to the quality of the wines from that terroir. During this time quality really began to improve and the wines of the region won the gold medal at the World Expo of 1867, followed by the Collective Grand Prize at the 1889 World Expo.
During the 19th century, the phylloxera epidemic struck the vineyards of Bordeaux. To tackle this deadly vine pest, the vineyards (which before phylloxera were planted mostly with Malbec) were replanted to Merlot grafted onto phylloxera-resistant American rootstock. In 1999, the Saint-Émilion winegrowing region and the 8 villages included under the jurisdiction of Saint-Émilion were recognized by UNESCO as a "cultural landscape" and listed as a UNESCO World Heritage Site.
Today the medieval town of Saint-Émilion draws visitors from all over the world with its beautiful monolithic church, its iconic 13th century Tour du Roy towers, its incredible labyrinth of underground limestone wine caves, and – of course – its world-renowned châteaux, many of which are located quite close to the town.
The Classification of Saint-Émilion Wine
The very first classification of Saint-Émilion wine took place in 1954, resulting in the creation of four appellations: Lussac Saint-Émilion, Puisseguin Saint-Émilion, Saint-Émilion and Saint-Émilion Grand Cru. The official classification was drawn up in 1955 (referred to as the 1955 classification of Saint-Émilion) and, unlike the 1855 classification of the Médoc, Graves and Sauternes, the classification of Saint-Émilion is updated every 10 years or so. Since then, the levels have changed to: Premier Grand Cru Classé A (the highest level), Premier Grand Cru Classé B and Premier Grand Cru Classé. The most recent classification took place in 2012 and only four Sant-Émilion châteaux made the cut for Premier Grand Cru Classé A: Château Cheval Blanc, Château Angélus, Château Ausone and Château Pavie.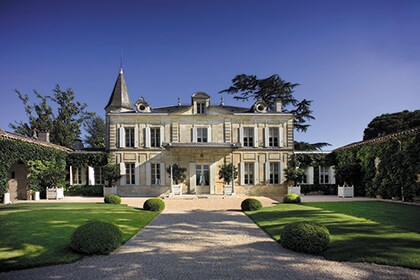 Today, the Lussac-Saint-Émilion, Puisseguin-Saint-Émilion, Montagne-Saint-Émilion and Saint-Georges-Saint-Émilion appellations immediately north and northeast of AOC Saint-Émilion are considered Saint-Émilion satellite appellations.
The Saint-Émilion Wine Terroir: Cradle of World-Class Wines
The town of Saint-Émilion is situated in the Libourne district of Bordeaux on the Right Bank of the Dordogne River. The appellation today encompasses roughly 5,400 hectares (13,000 acres) of land, producing roughly 250,000 hectolitres of Bordeaux wine per year. Only red wines qualify for the Saint-Émilion appellation. This area is a dazzling mosaic of plots, divided between almost 970 registered winegrowers. And because the terroir here is so varied, each of these producers seems to have its own soil portfolio.
The climate of St-Émilion is temperate with the oceanic influences of the Atlantic, consistent rainfall throughout the growing season and hot, dry summers whose temperatures are nevertheless moderated by the nearby Isle and Dordogne Rivers. The rivers also protect the vines against spring frost by lessening temperate swings.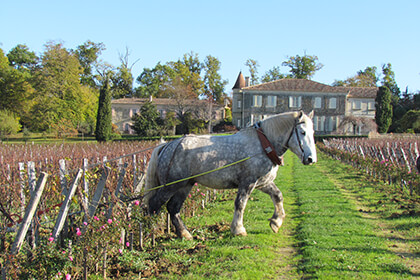 Unlike the wines of the Médoc, whose blends are dominated by Cabernet Sauvignon, the wines of Saint-Émilion contain mostly Merlot and Cabernet Franc. The appellation also permits the use of Cabernet Sauvignon, Carmenere, Petit Verdot and Malbec, though these grape varieties are generally used in smaller quantities, if at all.
The predominance of Merlot, which defines the style of classic Saint-Émilion, has a lot to do with the appellation's terroir. The soils of Saint-Émilion tend to be rich in clay, chalk and limestone, ideally suited to Merlot. The climate in most of Saint-Émilion is also considerably cooler on the Right Bank, too cool in fact to ripen Cabernet Sauvignon in time for harvest.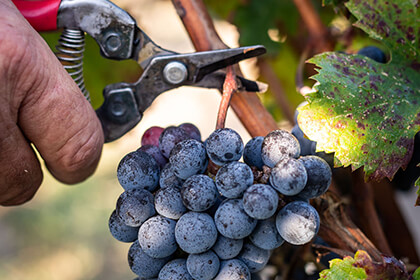 The soils of Saint-Émilion are incredibly varied, including limestone, clay, gravel, and sand in different proportions throughout the appellation. Specifically, the geology of Saint-Émilion can be broken down into three main vineyard areas. Perhaps the most famous of these is the limestone plateau upon which the town itself is situated and the surrounding limestone côtes (or hillsides). This is where most of the best known châteaux are located, including Château Angelus and Château Troplong Mondot. Here, the limestone and clay soils produce Merlot-dominant wines with remarkable elegance, finesse, softness, and ageing potential.
In the north-western part of Saint-Émilion, we find an alluvial terrace (nicknamed the "Graves de Saint-Émilion") formed by glacial activity in the Quaternary period (2 million years ago). Here, the terroir is characterized by Gunzian gravel soils with fantastic drainage and ideal conditions for ripening both Cabernet Sauvignon and Cabernet Franc. These two grape varieties appear in notably higher proportions in the wines from this area, including the famous wines of Château Cheval Blanc and Château Figeac.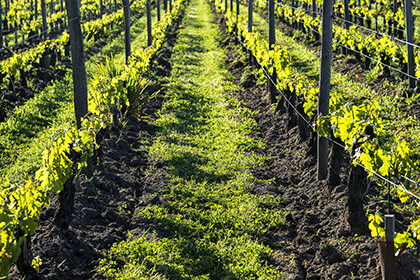 Finally, Saint-Émilion is also home to vineyards on an alluvial plain, characterized by sandier soils. Wines produced here tend to be lighter in body.
How to Enjoy a Saint-Émilion Wine
As is true for any winegrowing area in Bordeaux (or really, anywhere else in France or the world), the specific style of a wine from Saint-Émilion will depend largely on the characteristics of its vintage and the specific micro-terroir of the vineyard that produced it. For example, wines from sandy soils tend to be lighter and more red-fruit-forward on the nose, while wines from limestone and clay soils tend to be much richer on the palate, with deeper aromas and a greater potential for age.
Nevertheless, the generalized signature style of Saint-Émilion is a Merlot-dominant wine with a luscious mouthfeel, very smooth, soft texture and concentrated, intense aromas of blackberries, ripe plums, black cherries, and chocolate. Cabernet Franc also lends to these blends a certain floral and spicy quality as well as structure and tannins. With time, the wines of Saint-Émilion can develop herbaceous and earthy notes of tobacco and truffles. When produced from high-quality limestone soils, these wines can also offer a very elegant crushed rock minerality.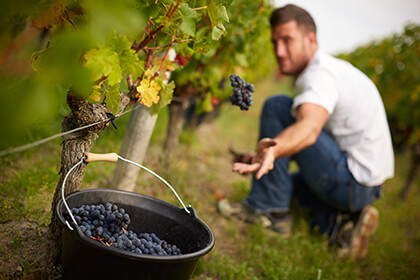 As wines of Saint-Émilion are predominantly made of Merlot, they tend to, on a whole, be approachable at a younger age than the wines of the Médoc, which can be very astringent and closed with rough tannins in their youth. Nevertheless, the best wines from Saint-Émilion will age beautifully in the cellar for decades after its vintage.
The best vintages of Saint-Émilion are considered to be: 2016, 2015, 2014, 2012, 2010, 2009, 2008, 2006, 2005, 2003, 2001, 2000, 1998, 1990, 1989, 1985, 1964, 1961, 1959, 1955, 1953, 1950, 1949, 1947 and 1945.
These wines should be served at an ideal temperature of 18°C (64.5°F) and no warmer than 20°C (68°F). Some (but not all!) Saint-Émilion wines will need to be decanted to allow them to breathe a bit before tasting. Make sure to read the serving suggestions of your specific bottle before uncorking.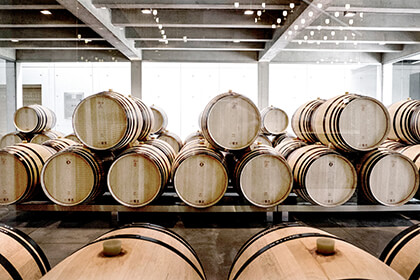 The different styles of Saint-Émilion wines allow them to accompany a wide range of food pairings. Basic Saint Émilion Grand Cru wines will go nicely with rich, tomato-based pizza or pasta dishes or a duck terrine. A high-quality Saint-Émilion Grand Cru Classé with 2 to 5 years of age on it will serve as the perfect pairing to dishes like a classic entrecôte a la Bordelaise, roast pigeon or Saint-Nectaire cheese. And finally, an evolved Saint Émilion Premier Grand Cru Classé A or B with 10 or more years of age on it will lend itself to a risotto or tagliatelle in a rich and creamy morel mushroom sauce, a light stew of lamb or veal, an omelette served with freshly shaved black truffles or a recipe with river fish, like the classic lamprey à la Bordelaise.