In the 1970's international grape varieties like Cabernet Sauvignon and Syrah appeared, along with modern winemaking techniques, leading the way to a renaissance of quality winemaking on the island. Eventually, Sicilian winemakers shifted their focus to what set Sicily apart: the native grape varieties like bold Nero d'Avola, fruity Frappato and crisp, juicy Catarratto, which thrive in its vast array of soils. The wines of Sicily are robust, rustic and genuine, pairing exquisitely with food.
The History of Sicilian Wine
The island of Sicily in Italy boasts a truly unique winemaking history extending back over 3,000 years. Archeological evidence, in the form of terracotta jars from the Late Copper Age, found in a cave in the region of Agrigento, suggests that grapevines were planted here even before the arrival of the Phoenicians in the 11th century BC. The latter are credited for first developing the reputation of Sicilian wines around the Mediterranean basin. The Greeks arrived in Sicily in the 8th century BC, bringing with them new grape varieties and advanced viticultural techniques such as pruning, bush training and varietal selection. The Romans continued the development of the Sicilian winemaking tradition by fine-tuning viticultural and winemaking practices. In fact, the favorite wines of Julius Caesar and Pliny the Elder were Sicilian (Mamertino and the white wines of Taormina, respectively).
Following the fall of the Roman Empire, wine production in Sicily also declined, until around the late 11th century, when the island's export business was rejuvenated. In the year 1773, an English merchant named John Woodhouse travelled to Sicily and created Marsala, a style produced through a system similar to the solera system of Sherry, which was already popular in England at the time. Woodhouse popularised the wines of Marsala abroad, increasing foreign demand for this Sicilian product. It was around this time that many of Sicily's still-standing historic estates were founded.
In the late 19th century, the phylloxera epidemic devastated the vineyards of Sicily and a slow replanting process of this Italian wine region began, which would last over five decades. In the years that followed, the Italian government would offer subsidies to winegrowers who adapted vine management techniques to increase yield, leading to the conversion of low-yielding bush vine vineyards to high-yielding pergola and guyot trained vineyards. These higher yields, destined for inexpensive bulk wines, resulted in a drop of quality, damaging the reputation of the island's wine industry.
It wasn't until the 1970's, with the arrival of international varieties like Cabernet Sauvignon, Syrah, Merlot and Chardonnay that Sicilian wines would be put back on the international wine map. The island's wine estates underwent major renovations and introduced modern technologies to improve quality as well. In 2011, the Sicilia Indicazione Geografica Tipica (IGT) was upgraded to the status of (Denominazioni di Origine), reflecting this overall improvement in quality.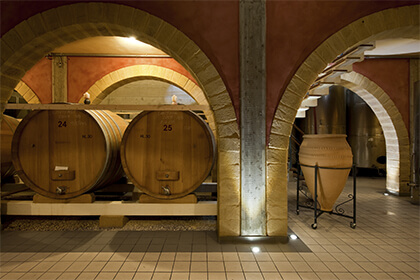 More recently, the wine producers of Sicily have turned their focus to the island's native grape varieties, including Grillo, Nero d'Avola, Frappato and Catarratto. Today, Sicily is home to 7 IGT appellations, 23 DOC appellations and one Denominazione di Origine Controllata e Garantita (DOCG). The wines come in a wide variety of styles, from easy-drinking every-day options to truly age-worthy premium fine wine bottlings.
The Geography, Wine Regions and Grape Varieties of Sicily
The most southernmost region of Italy, the island of Sicily is also the largest island in the Mediterranean Sea. The vineyards here enjoy a textbook Mediterranean climate with consistently bright and sunny days and moderate rainfall. The warm and dry environment keeps mildew and rot at bay and allows for the widespread practice of organic viticulture.
The soils throughout the wine regions of the island can be characterised as rocky, absorbing heat throughout the day and releasing it slowly during the night, keeping the vines warm and allowing them to fully ripen in time for the harvest. One region particularly noteworthy for its soils is the Etna DOC around Mount Etna, where volcanic soils at high altitudes are planted with red grape varieties Nerello Mascalese and Nerello Cappuccio, usually blended together to form fresh and energetic Etna Rosso wines with aromas of dark fruit and spices. Producers like Terre Nerre and Girolamo Russo produce fantastic examples of this style. Very refreshing and slightly saline Etna Bianco wines are made from blending native grape varieties like refreshingly citrussy and mineral Carricante with crisp and juicy Catarratto, along with other varieties like Trebbiano and Minnella.
Further south, the DOC areas of Siracusa, Eloro, Noto and Vittoria are situated along the lower slopes of the Iblei Mountains and the coastal plains just below them. It is here that we find Sicily's only DOCG, Cerasuolo di Vittoria. Here full-bodied Nero d'Avola is blended with fruity Frappato to produce a wine with pronounced cherry and red berry aromas. It is in this region that we find producers like COS and Azienda Agricola Arianna Occhipinti, who produce wines under the Terre Siciliane IGT classification as well as Cerasuolo di Vittoria DOCG.
In the northeastern tip of the island, near the city of Messina, we find the Faro DOC appellation, known for producing a blend of Nerello Mascalese, Nerello Cappuccio and a bit of Nocera. These wines are intense with aromas of ripe red fruit and nuances of vanilla, wood and spices.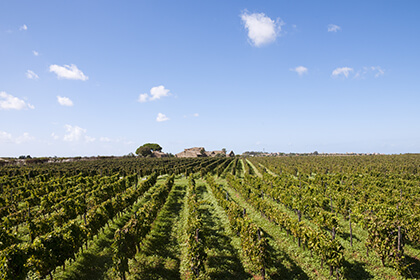 In Western Sicily, we find several DOC appellations, including Marsala on the northwestern tip of the island, near Palermo. Today, Marsala wine can be made from any of 10 grape varieties, including the indigenous Catarratto, Grillo and Inzolia. Fortified wines of the Marsala DOC are made in a style similar to Sherry, through a blending system known as solera. And, just like sherry, Marsala wines can be grouped into several categories (e.g.: fine, superiore, superiore riserva, vergine soleras, vergine solera stravecchio) based on ageing. These wines can be made in a dry style (like a fino Sherry) as well as a sweet dessert style. They tend to exude aromas of dried fruit, brown sugar and toasted, caramelised nuts. Beyond Masala, Sicily also produces sweet wines from the Muscat of Alexandria grape (locally known as Zibibbo), called Moscato di Pantelleria or Passito di Pantelleria.
The most widely planted native grapes of Sicily are Nero d'Avola and Catarratto. Nero d'Avola is famously blended with Frappato in the Vittoria. Grillo and Inzolia is also very popular, used mostly in Masala production. Nerello Mascalese and Nerello Cappuccio dominated the plantings around Mount Etna, though they are much less significant in terms of volume. These native varieties are grown alongside international varieties, such as Syrah, which has adapted particularly well to the hot climate of Sicily.
Food Pairings with the Wines of Sicily
The wines of Sicily are bold, rustic and genuine, pairing beautifully with a wide range of local and international cuisines.
The most popular white wine of Sicily, Grillo reveals a vibrant fruitiness and bright acidity that make it a great alternative to Sauvignon Blanc. Grillo is either produced as a varietal wine or blended with the native Catarratto to produce a wine that will pair beautifully with grilled seafood dishes, herbaceous pasta dishes (like spaghetti with a basil pesto and pine nuts) and vegetables like zucchini or roasted cauliflower. Lighter seafood dishes will go best with young and unoaked wines made with Inzolia, Catarratto and Carricante.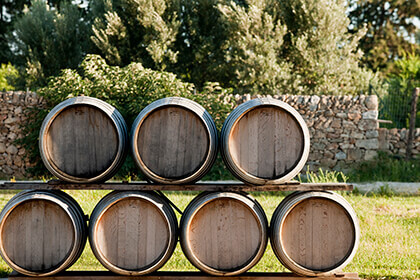 Varietal wines made with the popular Sicilian grape Nero d'Avola are characterised by high tannins, medium acidity and very strong body. These powerful red wines will pair nicely with equally robust dishes, like hearty beef stew, barbecued meat or a juicy burger. Nero d'Avola is blended with fruit-forward Frappato to make Cerasuolo di Vittoria, a wine with aromas of sweet black cherries, mulberries and black pepper. Slightly fresher in style than varietal Nero d'Avola, these wines will pair nicely with tomato-based pizza dishes, or even heartier fish dishes like grilled tuna served with tomatoes and vegetables. It will also go particularly nicely to Sicilian pasta dishes, like Spaghetti con Acciughe e Mollica Rossa with anchovies, tomato sauce and toasted breadcrumbs.
Another wine style that goes beautifully with tomato-based pasta or pizza is Etna Rosso, which is a style characterised by a high acidity and fresh fruit flavours. These are some of the easiest Sicilian wines to pair with food. They will also go nicely with charcuterie, roasted white meats, Sicilian caponata, and even heartier fish dishes like tuna or swordfish.
Finally, the classic Sicilian dessert Cannoli con Crema di Ricotta will go beautifully with a "passito" style sweet wine like Passito di Pantelleria. Marsala also pairs beautifully with cannoli, as well as with a wide range of Italian cheeses.